SPOKANE'S #1 BED BUG EXTERMINATOR
Find Those Hiding Bed Bugs In Your Home With A Bed Bug Inspection
Have you traveled somewhere recently and found bed bugs? Do you have insect bite marks on your body? These are common signs that you might have bed bugs.
Northwest Bedbug Company in Spokane Valley, WA  can provide a full bed bug inspection to determine the severity of your bed bug infestation and help you remedy the issue. We'll check mattresses, carpets and closets where bed bugs typically like to nest and alert you of anything we find.
Contact us today and get some peace of mind in your home.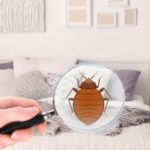 Schedule A Bed Bug Inspection In Spokane and Spokane Valley
Bed bugs are tiny and evasive, making it hard to tell when you have an infestation until it's a serious problem in your home. As a state-licensed bed bug treatment company with over 10 years of experience, Northwest Bedbug Company knows we can…
Quickly pinpoint signs of an infestation.
Determine what areas have been affected.
Suggest an effective treatment plan.
Contact us today to schedule a whole-home bed bug inspection at (509) 505-1399.
Get A Professional Bed Bug Inspection
Finding bed bug infestations is not like dealing with other household pests. Bed bugs can be very evasive and  require professional bed bug inspections. Northwest Bedbug Company provides full-service bed bug inspections including:
Home inspections
Office Inspections
Hotel Inspections
If you suspect you might have a beg bug problem, reach out to Northwest Bedbug Company. We can help you the peace of mind you need with a thorough bed bug inspection in residential and commercial spaces.
Call For Free Estimates On Bed Bug Inspection Services in Spokane, WA Or Surrounding Areas

Northwest Bed Bug Company
Northwest Bedbug Company – Call Us At: 509-505-1399
All Rights Reserved © 2021